Getting is good. Giving is better.

By now the story gets old. Girl goes to blogging conference. Girl gets swag.

Here's where the story is different. Girl gets swag and gives said swag to readers. When you go to a blogging conference, vendors come with samples, products, media 'swag' to give bloggers. It's fun, exciting and fast paced. Walking through one expo will leave your shoulder sore from holding so much stuff.

Then you get home and realize you want your readers, the reason you are blogging, to have some fun too! Everything in the picture above will go to one lucky reader!

And not everything fit in the picture.



I'm giving away one HUGE McDonald's tote filled with swag I got from the blogging conference I went to a couple weeks ago.
August 2012 Highlights Magazines (Highlights, High Five and Hello)
Lily's Little Life Lessons Book- Mom's Choice Award
Rampage Aviator Sunglasses
ProXeed Plus
Vidazorb Plus
Gutzy Gear Backpack Strap Covers
Flameless Candle
4 pack Energizer Batteries
I am a flirt tank top
Anti Monkey Butt Diaper Rash Cream
Certain Dri Anti-perspirant 72 hrs. formula
Oxylent Multi Vitamin supplement drink packs
Distraction cards
London Fog Umbrella
Disney Odd Life of Timothy Green Pencils
Odd Life of Timothy Green Notepad
Odd Life of Timothy Green Socks
McDonald's Zippered Tote Bag
*whew*
All items are new, from conference to your home! Thanks for being such awesome readers, not a day goes by that I don't realize how lucky I am to have such great readers! Good Luck!
Giveaway open to US only. 18+ ends 8/31 11:59 p.m.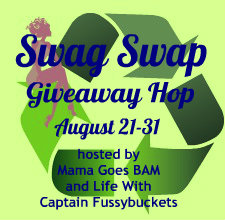 Welcome to The Swag Swap Giveaway Hop hosted by Life Captain Fussybuckets and Mama goes BAM. This is a special event to thank you our readers, and your chance to get your hands on some of the best swag from some of your favorite bloggers.
The event begins at 12:01 AM August 21 and ends 11:59 PM August 31.